Erbert & Gerbert's Sandwich Shop kicks off a year of celebrating 25 years of Flavornation by rolling back to 1988 pricing for Founder's Day on Jan. 23!
On Wednesday, Jan. 23, all Erbert & Gerbert's locations nationwide will offer all Classic sandwiches for $2.25, while Specialty sandwiches will cost $3.25 from open until 3pm. "The 25th anniversary is a huge milestone, and we wouldn't be here without the loyalty of our guests," said Chuck Schwalbe, director of marketing for Erbert & Gerbert's. "What better way to kick off 2013 and show our customers we care than rolling the prices on our most popular sandwiches back to the day we started?"

For new customers and longtime fans alike, the Founders Day Deal is a unique opportunity to enjoy Erbert & Gerbert's sandwiches at an unsurpassed bargain. The Classic sandwich menu includes hits like the Boney Billy, a tasty turkey sub; the Comet Morehouse, with fantastic fresh-sliced ham; and the Jacob Bluefinger, a vegetarian's dream made with avocado and veggies. The Specialty menu includes the Flash, Erbert & Gerbert's take on the Italian sub; and the Narmer, filled with turkey and fresh avocado. All other menu items will be available at standard prices.

The Founders Day Deal is the first in a yearlong lineup of special offers and giveaways to celebrate Erbert & Gerbert's anniversary. In addition, throughout the year members of the Sandwich Society rewards program will have the chance to win silver anniversary prizes. "This anniversary celebration is bigger and better than anything we've ever done before," Schwalbe said. "We are so excited to roll out our 25th anniversary promotions and showcase the delicious flavors and fun atmosphere that make Erbert & Gerbert's so unique."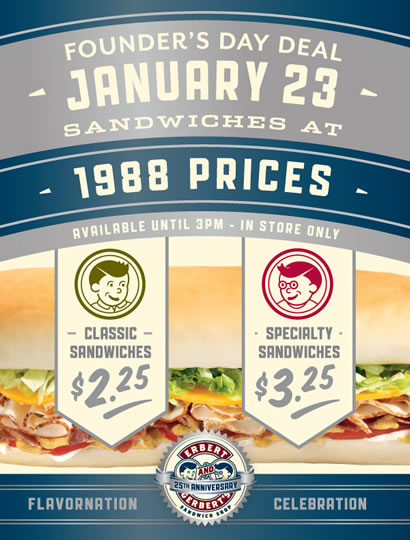 Links to News about this on other Websites