Franchise
Location, Location, Location
Following are the guidelines to help in considering an Erbert & Gerbert's franchise location.
---
Trade Area Requirements
Daytime Employment Population greater than 6,000 within a 1 mile radius and greater than 10,000 within a 2 mile radius.
Residential Population greater than 20,000 within a 2 mile radius.
Median Income greater than $40,000.
Lunch time traffic counts greater than 5,000 vehicles from 11 am until 2 pm.
College traffic and high foot traffic will be looked at. (Universities, Area Hospitals, Clinics and other high density Demand Generators will be considered).
---
Site Requirements
Erbert & Gerbert's have recently introduced their "Urban" concept and which will be used as each site is analyzed. The "Traditional" concept will also continue to be developed.
Retail Centers with high visible end caps with drive-thrus are preferred. Inline space will also be considered.
Strong regional and national brands within the center are a must.
National "Big Box" users within the development are also very important.
Good visibility with easy ingress and egress is a must!
Drive-up parking preferred with maximum parking spots allowed per code.
500-1,800 square foot space preferred with a minimum frontage of 20-25 feet. Depends on building depth).
Approval for Erbert & Gerbert's sign criteria.
---
Vanilla Box Requirements
Landlord shall provide the following:
Exterior Wall: insulate, GYP. Bd., tape and sand. (All exterior walls and all demising walls), 3'-0 storefront entry door and 3'-0 rear door located per tenant's plans and specifications.
Open ceiling with sprinkler heads (if required by code) turned up. Fire sprinklers to include a shell building system with main and branch piping in place with up-turned sprinkler heads per code. (If required).
Smooth Level sub-floor ready to receive floor finishes.
Landlord will give tenant advance notice of when concrete floor will be poured so plumbing and electrical underground work can be completed first.
400 amp, 3 phase four wire 120/208v electrical service with 42 pole panel located within demised premises.
HVAC equivalent to one ton per 200 sf (southern climate), 300 sf/ton northern climate with manufacturer's warranty.
1 inch water supply stubbed into space with backflow device. 4 inch Sewer stubbed into back area of space.
2 ADA compliant restrooms with walls ready for paint and ceiling finishes per tenant's plans and specifications or a build-out allowance of $14,000.
Minimum 10 foot high ceilings (Higher preferred).
All service tap fees, impact fees and development fees shall be the responsibility of the landlord.
---
---
Request Info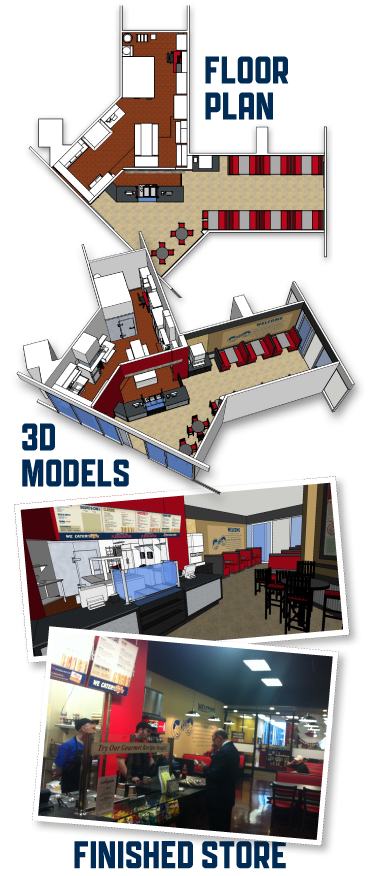 ---
Lease Terms
5 year lease terms with a 5 year option (Minimum).
First Right of Refusal by Corporate.
---
Please send all site information to Stuart Johnson at .(JavaScript must be enabled to view this email address)