You asked. We listened. Erbert & Gerbert's now proudly offers gluten-free gourmet soups and certified gluten-free bread! Look for the 'GF' symbol on our soup menu and ask for any sandwich on our gluten-free bread for an additional charge. Yes, everybody is welcome in Flavornation!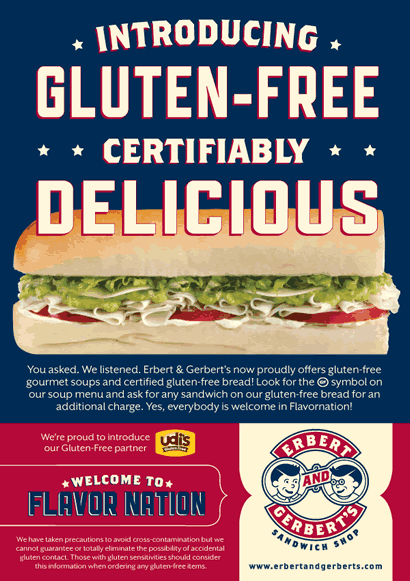 Gluten-Free options have now arrived in Flavornation! Erbert & Gerbert's now proudly offers gluten-free gourmet soups and certified gluten-free bread!
"Introducing these new gluten-free options will allow a whole new group to enjoy the flavors we offer at Erbert & Gerbert's," said Chuck Schwalbe, director of marketing. "That is truly exciting for our brand and franchisees, but even more importantly so for those who suffer from celiac disease or choose a gluten-free lifestyle."
The menu's focal point will be gluten-free versions of the chain's three most popular sandwiches, using dedicated equipment to avoid cross-contamination. The three subs – the Boney Billy, a classic turkey breast sandwich; the Comet Morehouse, made with ham and provolone cheese; and the Jacob Bluefinger, a vegetarian option featuring provolone and avocado – will be made with specially-designed six-inch sub rolls made by Udi's, a national gluten-free bread company. The sub roll from Udi's are certified by the Gluten-Free Certification Organization (GFCO).
In addition to the exclusive menu, guests will have the option of substituting the gluten-free roll on any of Erbert & Gerbert's 21 sandwiches for an extra charge, but those sandwiches cannot be certified gluten-free.
Erbert & Gerbert's new gluten-free menu doesn't stop at sandwiches: the chain will also offer a selection of three certified gluten-free soups, with more flavors in development. Two existing recipes – Cheddar Cheese & Broccoli and Cheesy Asparagus – have been reworked to eliminate gluten without altering taste, and a new flavor, French Onion, is also being introduced.
"Flavor is a key issue with gluten-free foods, and we wanted to develop a menu that upheld the values of Erbert & Gerbert's Flavornation," Schwalbe said. "Our reworked soups and the new sandwich menu reflect the best of both worlds: fresh, delicious fare that is certified gluten-free and meets our strict taste guidelines."
The gluten free menu has already been sampled in seven markets across Minnesota, Wisconsin, and North Dakota, and Schwalbe says the preliminary reception has been overwhelmingly positive.
"The customer response has been phenomenal," he said. "We're incredibly excited to roll the menu out nationwide and invite a whole new group of people to experience the flavors that make Erbert & Gerbert's so unique."