When Erbert & Gerbert's first began entertaining the notion of adding pre-packed items to our brand, due diligence prompted us to research the grab 'n go industry.  We wanted to get a grasp of where it originated, what today's standard is, and most importantly, what the future holds for this segment of food service.
Grab 'n go (or simply GnG) is characterized by ready-to-eat offerings that are distributed out of a self-serve, heated or chilled, merchandizer.  Surprizingly, this segment can trace its history back to the beginning of the 20th century.  Back then, the concept was called an "Automat" and was set up like a cafeteria-style restaurant.  Customers would insert their nickel(s) into slots along a wall of glass compartments, where food items were displayed.  While sanitation and technology have certainly improved since the early 1900s, the spirit of the Automat really hasn't changed that much.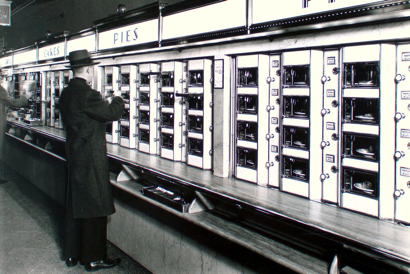 Automat's structured themselves around three main tenants.
1.)  Speed of Service.  With items that were already made, customers could purchase and be eating their meal within a few short minutes.
2.)  Visual Purchase.  By displaying the items behind glass doors, customers were prompted to purchase based on sight, as opposed to reading items from a menu.
3.)  Ability to Build Your Own Meal.  By offering different selections (like entrees, sides, fruit, rolls, and desserts) customers could "build" their own meal, which increased ticket averages.
Today, the Automat set-up has largely been replaced by smaller units, which can be housed in a variety of locations like convenience and grocery stores, hospitals, airports, corporate centers, and college campuses.  Glass compartments have given away to clear or windowed packaging that allows customers not only to visually assess their purchases, but helps keep food safe for consumption for longer periods of time.
Despite there being a hundred year history, Grab 'n Go has seen its biggest strides only in the past couple of years.  That is attributed to a number of factors including; increased food safety standards, advancement in technology, better marketing, and, perhaps the most influential factor, demand.  We live in a culture of busyness, which places time constraints on consumers.  This is evident across the board as quick-service restaurants are on the rise as well.  The driving forces here are speed and convenience and it appears this demand may very well be sustained for quite a while
Sources: 
Photo Credit: New York Times, CityRoom Blogs, June 17th 2012 Edition