Do you speak brand?…because if your consumer base is Millennial (and to a lesser extent, upcoming Generation Z) you better believe they do!
Like many QSR brands, Millennials drop a lot of their income in our restaurants (Erbert & Gerbert's).  Since current CEO, Eric Wolfe, purchased the company over 10 years ago, we've seen steady sales growth and that all started when he began building the brand as we know it today.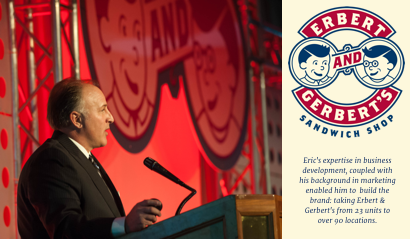 A brand is more than a logo, however.  Yes, it definitely includes the logo, font, and colors associated with advertisement, but it's also:
-your menu
-your consistency in food and service
-uniqueness and memorability of the dining experience
-the environment in which it appears
-repetition of the message
…in short, a brand is a promise.
That promise leads to increased sales because you can set premium pricing, attract new customers, and better retain existing customers (even if they've had a negative experience…the brand promise assures them it will be corrected!)  However, branding can be difficult to deliver.  Particularly for captive markets (like college campuses, airport, and the like) where managers are responsible for multiple concepts and/or food courts; there simply isn't enough time and attention available for properly developing your own well-branded restaurant.
A franchised brand helps with this challenge because they've likely been in business for a while (so they already have consumer awareness), and they've also perfected the other important factors to branding (consistency, product, marketing, etc).  Cost of including a franchised concept in your dining line-up can also be a concern, but shop around…you'll be surprised that there are many brands (like ours) that are eager for business and are focused on offering a concept that is both flexible and inexpensive.
Chime in with your restaurant branding experience!  What worked?…What didn't work?  How have you noticed Millennials and Gen Z respond to branding?