The holiday season is in full swing, and with it comes an often overlooked revenue generator for restaurants; catering.  In year's past, catering was reserved for foodservice campanies that specialized in the preparation and transport of food, but recently, quick service brands have been getting in on the action.  In fact, recent studies have indicated that restaurants are now generating four times the catering revenue than traditional outlets!  That means all those holiday office parties and family get-togethers could translate into, not only increased sales, but can showcase a restaurant to many potential new customers!
Catering may sound labor intensive, but if you have a well-planned catering program, and put in a little marketing elbow grease, a restaurant can implement such a s service into its operation.  At Erbert & Gerbert's Sandwich Shop we've spent the past several years developing a catering program for our franchisees, offering marketing products, packaging, and training so they can be successful in their communities.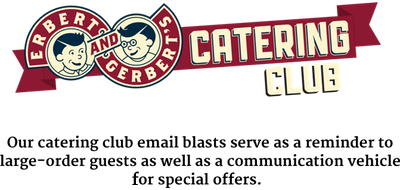 The biggest key to developing you catering market, however, is YOU!  As a franchisee or owner of a restaurant, it is imperative to actively seek out opportunities.  Some of our franchisees have found catering success by marketing to existing customers via email, sampling to local businesses, or developing relationships with community leaders.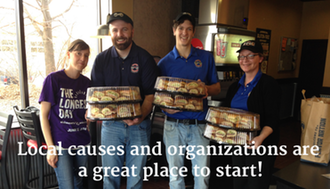 Next is making sure your operation can handle large orders.  Creating space in your restaurant for assembly and training your staff for volume are two key elements in executing catering orders effectively.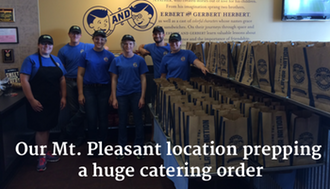 Building a catering element definitely doesn't happen overnight but, with effort, it is an avenue that can generate additional sales and work as an advertising vehicle itself.
**Erbert & Gerbert's is seeking franchisees in select markets of the US.  If you are interested in opening your own Erbert & Gerbert's, click on the "Franchise" tab at the top of this page to learn more.