Last summer, Erbert & Gerbert's developed a line of premium Grab n' Go sandwiches and salads inspired by our original menu.  The pre-made items, operating under the name of EasyGo, are attractively packaged, flavorful, and convenient for the consumer on-the-go!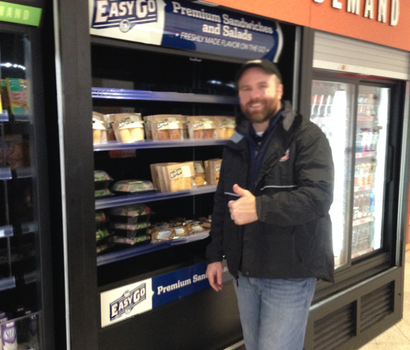 The University of Tennessee-Health & Science Center was the first location to incorporate the EasyGo product, however there are many other locations that are looking into our Grab n' Go program.  Pictured above is Erbert & Gerbert's franchisee, Tom Ruth, who recently partnered with the University of Minnesota to bring EasyGo to their campus.  Tom also owns and operates a full-service Erbert & Gerbert's in Minneapolis in addition to the campus EasyGo site.
If you are interested in franchising with Erbert & Gerbert's click the "Franchise" tab at the top of this page.  If you have an interest in a specific non-traditional location such as a college campus, hospital, or airport please email; kmiddleton@egsubs.com.