Recently, the University of Minnesota participated in Erbert & Gerbert's Sandwich Builder Program, and created a one-of-a-kind sandwich, available only on the campus of UMN.
The program allows student to virtually create their own sandwich via the Erbert & Gerbert's Sandwich Builder Website.  Submissions are judged by criteria set by the school and voted on by the students themselves.  Once a winning sandwich is selected, it is typically named after the mascot or a characteristic unique to the university itself.  Its fun, its interactive, and it gets students involved!
The University of Minnesota selected a Ham, Bacon, & Provolone Cheese combination and dubbed it: Ski-U-Mah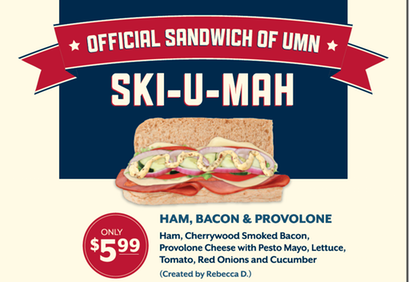 Located in the Coffman Union, Erbert & Gerbert's has been proudly serving the University of Minnesota for nearly 5 years.