Don't Forget the Soup
Not just your average, run-of-the-mill soups, these are genuine, Grade A bowls of flavor.
When a sandwich is in the company of a fine soup, you've got yourself a meal, friend.
Blanco Chicken Chili
Fresh tender chicken is simmered with onions and roasted green chilies in a rich chicken stock. Finished with a mild pepper jack cheese and frijoles blanco.
Home-Style Beef Chili
Our secret blend of 11 herbs and spices make this the perfect combination of flavor and heat, slow-cooked with fresh tender ground beef, kidney beans, onions and green peppers in a rich tomato chili.
Fiery Southwest Chili
Our Fiery Southwest Chili starts with slowly simmered ground beef, pinto beans, onions, red and green peppers, and our special blend of chili seasonings to really bring out the heat in our take on a classic cup o' chili.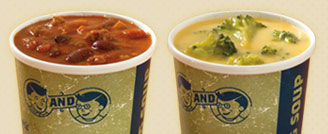 Cheddar Cheese & Broccoli
A subtle combination of seasoning accents this rich blend of Wisconsin cheeses and fresh cuts of broccoli, all based in a home-style vegetable stock.
Cheesy Asparagus
This creamy delight combines plenty of asparagus in a white cheddar cheese sauce and vegetable stock.
Cheesy Enchilada
Simply cheesy deliciousness, featuring a blend of four cheese, diced chicken, tomatoes, onions, green peppers and jalapenos.
Chicken Dumpling
This hearty home-style favorite features tender herb spaetzles seasoned with sage, parsley and black pepper, simmered in a rich chicken stock with carrots, celery, and chunks of tender chicken.
French Onion
Our chef-inspired, gourmet recipe French Onion Soup is made with a rich beef broth and caramelized sweet onions, cooked to perfection and covered with a slice of our provolone cheese.
Loaded Baked Potato
Real Idaho Potato chunks in a rich chicken stock and blend of 3 cheeses with smoky ham, fresh onions, celery, carrots and green peppers.
Minnesota Wild Rice & Chicken
A creamy chicken soup with Minnesota Wild Rice and fresh vegetables, chicken and a hint of sherry.
Old Fashioned Chicken Noodle
A light chicken stock is loaded with big chunks of celery, carrots, chicken and old fashioned egg noodles.
Wisconsin Beer Cheese
Ah, the best of Wisconsin in a bowl! A blend of four Wisconsin cheeses, carrots, Miller High Life beer and just a hint of Tabasco for a little zip.
Sweet Corn Chicken Chowder
The most tender sweet corn and choice potato, blended with onions, celery, spices, and savory chicken in butter and wheat flour to bring out the best in this cold weather neo-classic.
Smoked Chicken & Sweet Potato
This gluten-free soup is a perfect combination of hickory smoked chicken and sweet potatoes blended with onions, sweet corn, red bell pepper, bacon and spices in a rich and creamy smoked chicken stock.
I live on top of sandwiches. (And on the bottom of this website) -
Mr. Guts »